Let's reuse old wine glass bottles with Glass Bottle Cutter!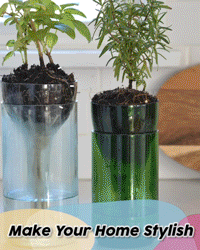 This bottle cutter DIY tool is easy to use and suitable for glass bottles, jars, and even more! Recycle your old glass bottles to create new and functional crafts. Make your home more stylish!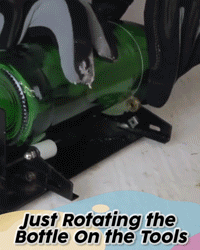 Let's recycle the glass bottle to protect the environment! 
FEATURES:
Easy to Use


Let's make a glass bottle or jar crafts without getting frustrated! After cutting a line on the bottle, pour the scoreline over boiled and cold water for three-time and smooth the cutting line.
Wide Application


Suitable for every glass bottles or jars. 
DESCRIPTION
Positioning Bottle- The bottle is placed lengthwise on the cutter with a bottom flush against the backstop and resting on the rollers. The position of the backstop and rear rollers determines the point at which you cut the bottle.
Etching the Glass- A light etch is all that is required. Apply only slight pressure on the bottle while rotating the bottle toward you with your hand. To ensure an accurate cut, keep the bottle firm against the backstop. Do not allow the bottle to stop turning while scribing the etch. 
Separating the Bottle- Soak the bottle in boiled water(must cover the scoreline), slowly rotate the bottle in one direction for one to two minutes. Then soak it in cold water quickly, also rotate for one are cracking, you can separate the bottle.
Smoothing the Edge- To prevent chipping, rub the inside and outside edges lightly with the polishing paper. After a short time, the edge of the glass will become perfectly flat and have a dull gray appearance.
SPECIFICATIONS:
Material: Polycarbonate & Stainless Steel
Size: 20 x 15 x 7.3 cm
Cutting Length: 20mm-320mm
Cutting Diameter: 20mm-230mm
Cutter Size: 18cm*15cm*5cm
PACKAGE INCLUDES:
1 x Glass Bottle Cutter DIY Tool