Broken zipper? No problem! With this easy-to-use Fix Zip , you can repair split zippers, broken sliders, and up to three missing zip teeth . For jeans, pants, coats and more.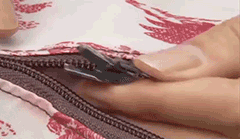 CHARACTERISTICS:
DURABLE AND PRACTICAL: Universal sizes. It works on the most common zipper mishaps, including split zipper tracks, broken sliders, and up to 3 missing teeth. Fits jeans, skirts, golf bags, sleeping bags, wallets, jackets, suitcases, tents, etc.
VARIETIES OF ZIPPER SIZES - Containing a variety of zipper sizes, you're sure to find the perfect match for a repair.
SAFE MATERIALS: Made of nylon plastic and stainless steel. BPA free and no other harmful and toxic chemicals.
MODERN DESIGN - Can be started in the middle of a zipper, zippers forward and back. Easy to install. No tools are required.
SPECS:
Color : black
Material : metal and plastic
Dimensions : 1.3 × 3.6 × 1.1 cm (L) / 1.1 × 3.4 × 1 (M) / 1 × 2.8 × 0.85 cm (S).
PACKAGE INCLUDES:
2 large hinges
2 medium hinges
2 small hinges