Train your mind while having fun!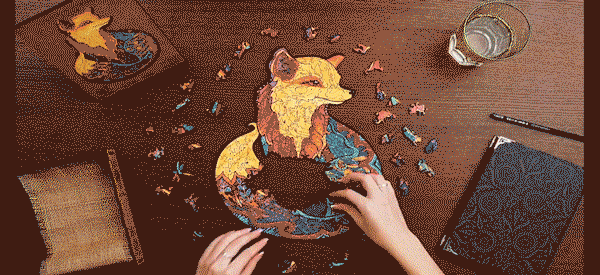 Introducing our  Wooden Puzzle , a classic pastime with a twist  that creates more  fun and relaxation  ; improving your  memory,  problem solving  skills  and  attention to detail  with  wonderful forest dwellers .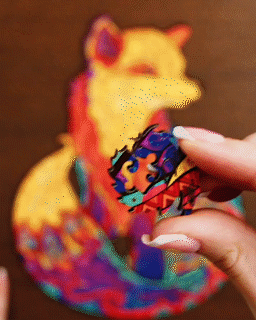 Imagine   that you are  holding a small  sculpted figure  of an animal in your hands  ! Each piece of our wooden puzzles has   different fantasy shapes , from various types of  magic wands to stars and animals  , which is quite  difficult  to find the  same connection for different couplings  ; while  the  laser cut  design  ensures  smooth edges   that fit perfectly.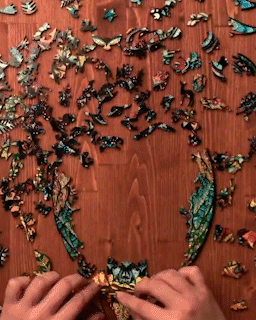 The   uniqueness   of these animal puzzles is that this set does not just involve a regular puzzle assembly; requires a   very  thoughtful  process  . The purpose is to find suitable links and  create the scene of forest life  on your desktop. It is a whole universe and an  exciting adventure  in the    world of animals  .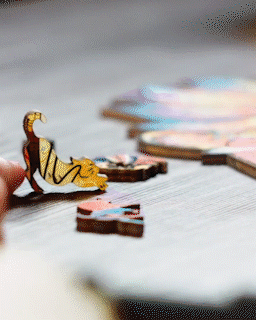 FEATURES:

Fantasy Animal Theme:

 Enjoy a moment of relaxation with this animal puzzle game! In addition to training short-term memory, problem-solving skills, and attention to detail, you will be able to enjoy wonderful forest dwellers.

 
Unique Puzzle: 

 Each piece of our wooden puzzles has different fantasy shapes, from various types of magic wands to stars and animals, which is quite difficult to find the same connection for different couplings. One side of them is painted in bright colors and the other side is a smooth wooden surface. Even the graceful slender-hoofed doe stands firm on the table.
FUN
FOR ALL AGES - Let your kids train their thinking and problem solving skills with this wooden puzzle, or use it as a way to relieve stress after a long day at work. It is ideal for the whole family, improving the relationship between parents and children. 


Premium Quality:
Made of environmental grade birch plywood; ecological safe. Waterproof and fade-proof. Fully recyclable and biodegradable parts.
For all your loved ones: Are you  

looking for a birthday or holiday thoughtful? These unique wooden puzzles are the perfect choice! Give your loved ones hours of entertainment. Besides animal lovers, this is definitely a gift that everyone will love!
FEATURED AS A FAVORITE PRODUCT IN
Featuring elaborate depictions of majestic creatures both fictional and non-fictional, our mandala puzzles put boredom, fatigue and tension to rest. Designed to support mental well-being and relaxation, these puzzles stimulate cognitive response, boost concentration and help sharpen fine motor skills, but they also engage the imagination to unleash worlds of profound wonderment.
Crafty, cunning & clever as a 🦊FOX? Prove it with puzzle art!
Be whisked off to a magical land with our whimsical UNICORN.🦄
Dare to enter a 'firebrand' fantasy realm dominated by DRAGONS. 🐉
Change pace & let creativity flow with a colorful CHAMELEON.🌈
Succumb to the whims of a BUTTERFLY with wings spread wide. 🦋
Reflect on the mysticism which surrounds WOLF🐺 pack leaders.
Have a hoot putting together our colorful OWL 🦉 mandala puzzle.
Or go full on stealth mode as you build out the KING of beasts! 🦁
Why else should you choose our puzzles?
Fully recyclable packaging and Biogredable pieces and Packaging
Thoughtful gift for any occasion
Water-Resistant and Color Fading Proof
Guarantee to replace any missing or broken pieces
Average complexity, age 3+, assembly time 1-2 hours.
Improve your short term memory, problem-solving skills, and attention to details
Our puzzles for Kids and adults are made of high quality 0.16 inches (4 mm) birch plywood, E1 environmental grade. All materials are environmentally friendly and safe.
Less than 100 Puzzles are Left!!
BEST PRICE AVAILABLE WHILE SUPPLIES LAST 
Our Money-Back Guarantee
We offer a risk-free 90 day Money-Back Guarantee on our products. If you are not in love with a product, simply contact our customer experience team and receive your money-back. 
Please allow 9-16 business days with FREE standard shipping in addition to order processing time.